5 Star Outfitters,
Glen & I have hunted in a lot of interesting places and had great adventures every time. This week we celebrated our 7th anniversary by hunting with 5 Star Outfitters and Koby Howell. This is the most outstanding hunt we have ever experienced bar none & we hunted 5 ½ hours from our home – not thousands of air miles away!
The hunt was challenging and exceeded all of our expectations. The hunting lodge and the owners of the property we hunted were 5 Star all the way = the cabins were nicely decorated and private. The main lodge was so nice we are planning to use the design for our new home and mounts from many other hunts.
This hunt was on a high fenced property but there was nothing ordinary or easy about this hunt. The Piney Woods of East Texas make hunts more challenging. We stalked my fallow deer for a 1 ½ days before I had an opportunity to harvest him. We hunted other animals that were challenging also.
Thanks to Koby and our hosts we were fortunate to harvest really high quality animals in a challenging hunting adventure. 5 Star Outfitters are the Memory Makers of the hunting world……they really strive to make your hunt a chance of a lifetime opportunity & are very successful in their efforts.!
Glen & Patricia Bullard
Koby, thanks so much for a great turkey hunt this week. You have a first class operation. It was the first time hunting in that part of the country for me.
An experience I'll never forgot. Again thanks for a great time. Look forward to coming back.
Thanks,
Tom McCue
Koby,
I wanted to thank you and your staff for a GREAT opening of whitetail deer season. I think I can speak for the other guys I was with that we had an incredible time. I have been to only a few lodges in the past but this was by far the best operated facility. The accommodations and food were top notch and I can't speak enough for your team of guides. They were all very knowledgeable and friendly. A great bunch of guys to be around. Even after a week I am still excited about the buck I shot. It was truly amazing to be part of this hunting group and guides. My hats off to all of you. Working with Greg was helpful and fun.
Thanks again,
Patrick C.
Koby
Just wanted to tell you again thanks for making Josie and my trip to Texas such a great time! I appreciate all the hard work you and Ray put into our hunt. Josie really had a fantastic time and did not want to come home. That was very exciting to me as you know not knowing exactly how she felt down deep inside.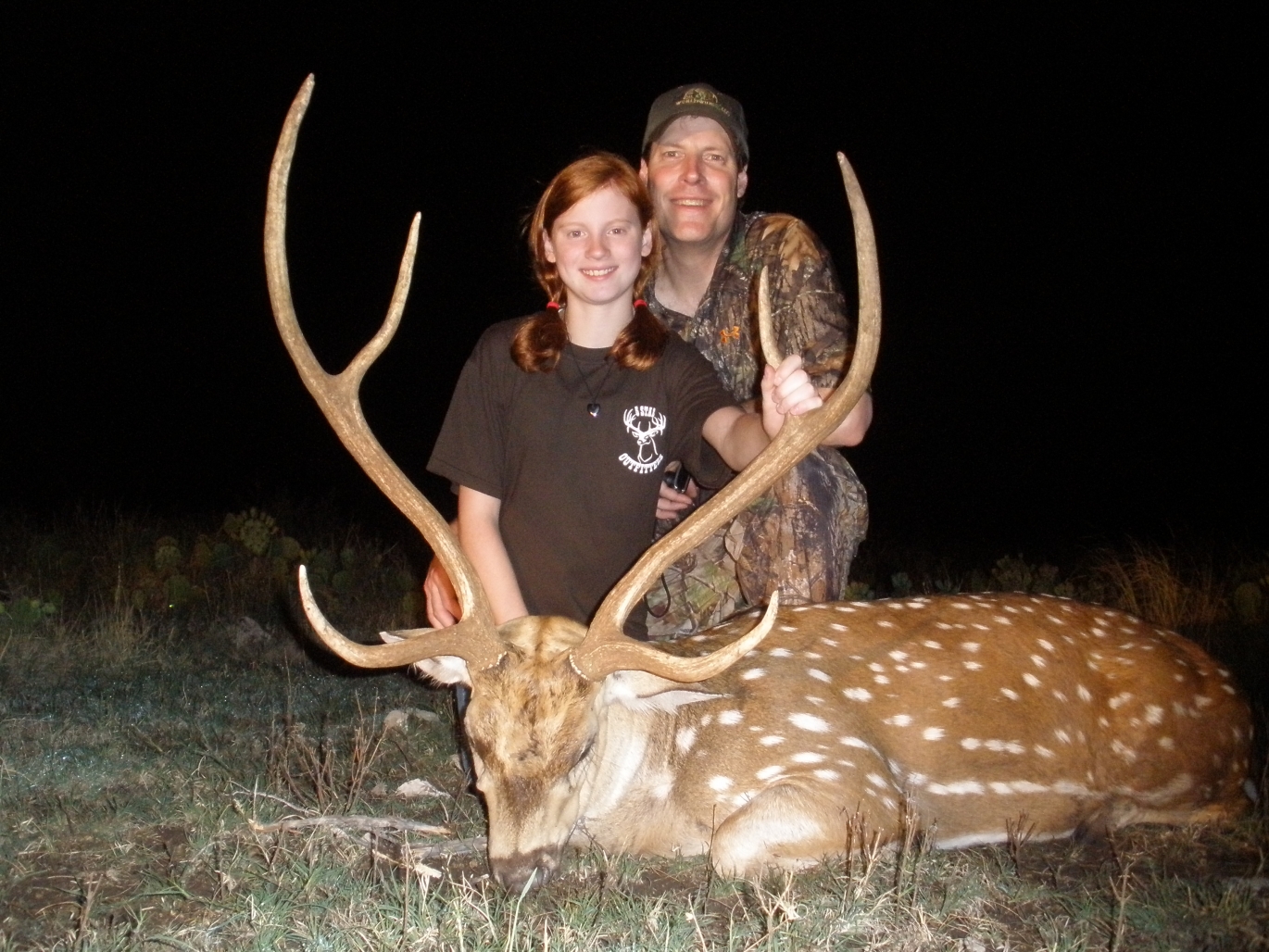 I also want to compliment you on the great job you did encouraging her in big and small ways all weekend. Your comments on the range about how well she was shooting and that she was better than many adults; your comments to her after she got the cactus in her leg during our stalk about getting back at the Axis for you getting into the cactus that refocused her back on the Axis. There were a couple of others I can't remember right now but you have a gift from our Lord in relating to kids for sure. Reegan is blessed for sure!
It was wonderful not only meeting your girls but also really getting to spend so much time with them. I feel like I really got to know your family and that's special to me. You are blessed with 2 wonderful, special girls and they sure added to the fun for Josie and I over the weekend. Please tell them thanks for adding to our fun!
Thanks again and I hope to talk to you soon.
Sincerely
Kevin Slaughter
Antlers & Anglers Worldwide, LLC
Koby,

It has been a dream and desire of many years to do a Rio Grande Turkey hunt in Texas. My biggest challenge was to choose the best outfitter/guide that was capable of providing me the premier hunt that I desired. I chose 5 Star Outfitters...what a great decision! First class accommodations that far exceeded my expectations...and beautiful scenery that was awe inspiring.

My guide, Chris, was extraordinary and certainly deserving his world class Turkey calling status! I arrived at the lodge at 12 noon Monday and at 12:45 I had my first bird. I had not even had time to unpack!

Well, suffice it to say that by 9:30 am Wednesday when I took my fourth Rio, I was a happy man...I had just fulfilled a dream hunt of a lifetime!

Koby, you can be sure I will be back next year for another Rio hunt and the 190-200 class whitetail hunt is DEFINITELY in my near future!

Thank you for a wonderful hunt and a very enjoyable time...I haven't relaxed this much in years!
Best Regards
C. Frank Miller
To 5 Star Outfitters,

As always, when we return to 5 Star it is like visiting life long friends. We spend the whole day together and we are still smiling. From Sunrise to past sunset, we get to share our mutual love for the outdoors and hunting. With today's fast pace world and technology, it is so refreshing to be outdoors and enjoying what the day unfolds.
The staff is so attentive to every detail, that you just need to bring your gear and the rest is taken care of!
We go as a family to hunt. Yes, Mother, daughter, Father and sons all enjoy the great outdoors. And yes we all hunt. 5 Star is a great place to bring your family, and watch the deer and antelope play, and if you choose you can put a stalk on one!!
Nicole Meier and Family
Illinois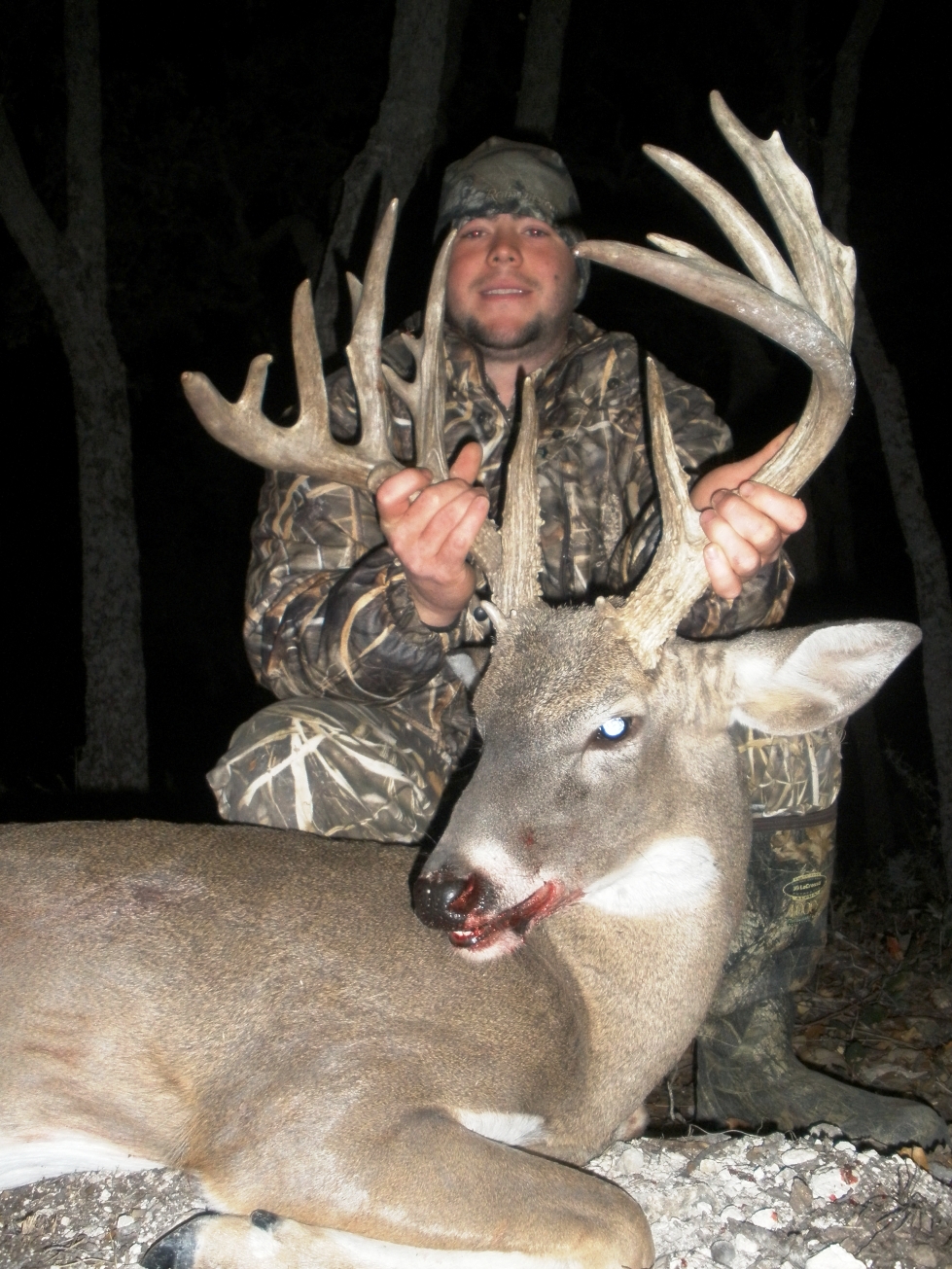 Hello Koby, I wanted to take a moment and thank you and your staff for the most amazing hunt that you provided for my son Brandon and me! When we arrived at the ranch and where meet by you and two of your guides Ray and James, and was greeted with the utmost respect and professionalism.
Brandon and I are serious deer hunters from northern Louisiana and didn't really know what to expect about the hunt in west Texas. I have to tell you that we where amazed at the whole operation of the ranch and how the hunts where managed.
On the first day what was so special to me was that evening Brandon and I both kill a 169class and a 177class Texas whitetail within 30 minutes of each other. Koby you yourself guided my son Brandon on the most amazing hunt to get a huge Texas whitetail deer and I have to say thanks so much. I have to thank my guide Ray, for after a short period of time being around me he knew what I really came to Texas to hunt! After passing on quite a few deer the first day that evening is when the deer that I wanted stepped out and Ray knew it and after a few moments Ray looked at me and said "that's what you came to Texas to get David!" and he was right. He guided me to the most unbelievable Texas whitetail hunt a person could have. Koby, the next day you and Ray also guided me on another hunt to get me my first Axis buck and that was great.
The accommodations at the ranch were first class and the food at the ranch is not second behind anyone! Koby you and your whole staff made Brandon and I feel right at home. Both Brandon and I are planning to return next year. In closing I have to say again thanks so much and you have a first class team with you and we will see you soon.
David and Brandon
Northern Louisiana
Koby, just wanted to thank you and your staff for a Great Hunt on opening weekend 08. You guys are truly amazing, from the time we arrived, we experienced a first class operation. The accommodations and food were incredible, but the guides and their professionalism will stick with me forever. They were very knowledgeable, helpful, courteous as well as, good guys to hunt with. I still cannot believe the quality of bucks we saw, I was very proud of the Buck I took on this trip and look forward to returning in 2009.
Kevin Hutcherson
To the A-team!! Koby, Ray and James, we've known and hunted together for many years now…I do a lot of hunting thru out the year, and there is no other trip I look forward to more than the one with you guys!! This year it was Wyoming, I've been on the quest for a trophy mule deer for many years now as it was last on my list for the North American deer slam, well, this year it finally happened!! I could not of done it with out you guys!! We hunted hard in the in climate weather for days, you guys never gave up and persistence paid off big time!!The quality of BIG mule deer on your Wyoming property is truly amazing!! i saw more quality deer in 4 days than i ever had on previous hunts! i was holding out for something special and you delivered!! Good times for sure guys and you can bet ill be back on the edge of "the canyon" next year with you all!!
Thanks again brothers and God bless...
Matt [get some] Tupen,California



Hi, Koby, I just wanted to thank you, James, and Ray-Ray for the great hunt we had Nov 6th although we only got to hunt for 1 1/2 hours, due to the unexpected death of a friend. I saw more trophy bucks including a 200 class than I will ever see around where we hunt , plus taking a 170 class buck. I also got to meet a new friend in James. Koby, you and your crew are top notch I have hunted several places in TX and Mexico, and the guides can really make or ruin the hunt, and you and your guides are the best I've seen. Y'all are more friends than guides and that makes for a great hunting experience, plus you have the monster bucks to back it up and try harder than anyone I've seen to get the type of deer you want. I'm really looking forward to coming back and checking out some of those monsters we saw!
Thanks, Pat Finnegan Hattiesburg, MS.


After reading Theodore Roosevelt's book "Hunting Trips of a Ranchman", where he describes' in chapter VIII "The Lordly Buffalo", his quest to hunt a bison, I have had an interest in pursuing this great symbol of our West. I have spent many years hunting in the U.S. and Africa but the opportunity for such a hunt had not occurred. Several friends had shot a buffalo but none of their hunts were particularly interesting and the trophies taken were mediocre at best. I had pretty much given up on such a hunt until Koby called me last summer and described a huge bull. I was hesitant at first, however, I have learned that Koby is a very capable guide who only involves himself with quality hunting and so made up my mind to attempt to include a bison in my trophy room. The added interest in this hunt was to come from using primitive firearms. In this case a Winchester 1886 lever gun in 45-70 cal. with open sights and a single action .45 revolver. We had a great hunt catching the 2400 pound bull (could not see over his hump when he was standing) sunning after a cold night near the edge of a large field. He also saw us and started for the trees. We made a running approach behind the tree line and managed a quick off hand shot at about 40 yards with a fast, but unnecessary, follow up shot as the grand animal escaped into the brush. The initial shot passed through a rib on the left and out a rib on the right smashing both and exiting like a solid. Clearly the old 45-70 is enough gun for even such a large animal. Within another 50 yards he fell to his side and a third shot from the revolver into his chest between the front legs ended the chase for good. It had been a fun hunt simulating the excitement the old timers must have felt when they went after such beasts with a simple weapon. I cannot praise Koby and his crew enough for putting such a hunt together and carrying it off in such a fine manner. It is a memory I will cherish and keep right up there along with the big black cape buff I shot in a very similar way 14 years ago in Africa. And not to mention the very nice 10 point buck I took with the same rifle 3 days later. Who says you need a scope and a flat shooting rifle? Getting close is more than half the fun if you have a guide who appreciates hunting.
D.J. Stoner "Big D"

Last October I was referred to 5 Star Outfitters by my friend Matt Tupen, Matt knew I was looking for a good whitetail hunt. He told me about Koby's operation and soon I was on the books for an October trophy management hunt. Let me say this, after that hunt I will not hunt the state of Texas unless its with 5 STAR OUTFTTERS! I saw more shooter bucks in one day on that hunt then 3 seasons back at home. I took 2 great 8 points. The accommodations and food are 5 STARS. Koby and his staff makes you feel more like family then a client.
Most recently I booked an Axis Black Buck combo hunt with Koby. Wow, what a fun and changeling hunt! The weather was real hot, game movement was very minimal due to the extreme heat. But that didn't stop Koby, on the last day of my hunt I was able to harvest an Axis Buck and Black Buck both beautiful animals.
I also just booked my Trophy Wyoming Mule Deer hunt with Koby for this coming October it can't come soon enough as I know it will be a 5 Star experience.
You can not go wrong with 5 STAR OUTFITTERS! Koby please feel free to use me as a reference. Thanks
Richard Drehsen Camarillo, CA
Koby,
"Just got back-Thanks for letting me hunt at your ranch. I'm already looking forward to next year! I hope Greg, John and Chris had a good hunt. Thanks again, you have a great place - I'd say it's 5 STAR!"
Dane Weindorf, AR
"I had the good fortune of meeting Koby Howell 4 years ago, in Amarillo Texas on a whitetail/aoudad hunt, I also met and hunted with Ray and James. I've also had the pleasure of meeting his lovely wife and mother-in-law, when I hear people mention "a family run outfit" yours definitely comes to mind!!
Everything from the pre-hunt planning, transportation, knowledge of game, and fresh ranches is what you will receive when you hunt with 5 Star Outfitters, the food is outstanding probably the best I've had on a outfitted hunt!! Thanks mom. the accommodations are truly awesome, the team you have assembled around you koby, is truly a great one, I have been a licensed hunting guide for the last 9 years here in California, my expectations were pretty high when i first hunted with another outfitter, you have definitely set the bar, and i would recommend you to anyone out there who wants to hunt the great state of Texas or Wyoming (I have hunted both with you)to give 5 Star a call, you will not be disappointed, everything you are told on the phone or in e-mail will be the TRUTH, Koby is a straight player, which is one of the many reasons why I will be hunting with 5 STAR again this season! Please feel free to use me as a reference, and thank you to you and your awesome crew!

Matt Tupen, California
"Hi Koby, I hope your hunting is going well it's really hard to get into hunting here right now after hunting with yall and shooting two deer over 200 B&C, but that's good maybe we can let our deer get a little older now, Trey is still laying them down though he got a nice 12pt thanksgiving day 3 year old that probably went 135. Once again I want to thank you for the great time and hunt we all had, your five star team and you especially seemed more like friends and family than hunters and clients and I especially liked hunting with you, the hunt was more fun than the harvest, I cant wait to see the video. I really hope to come back, and Carey said he does too. Thanks and keep in touch let me know of any good specials that might be going on."
Pat Finnegan

"I have had the good fortune to have spent many seasons of a long life in the hunting
fields. For many years I hunted independently throughout the South, East Coast and West with some forays into Canada. Most of this time was spent on Whitetail and upland bird with a wide variety of miscellaneous species thrown in when the opportunity arose. In the later years of my life, due to time demands, I began relying more on professional assistance for scouting, planning and guiding. I also began to hunt around the world including 11 African safaris. So I believe that I have a bit more than the average experience with hunting and with guides. I learned early that the competence, preparedness, and commitment of the guide was the single most important factor not only to my success but also to my enjoyment. I met Koby on a whitetail hunt in 2004 and had a most enjoyable experience with him. His attitude was cheerful and he was committed to making the experience not only enjoyable but successful. He was honest, hard working, and proved to be a skillful guide. He is very knowledgable about the game and the country he hunts. He shows dedication, drive and commitment. He remains prepared for any eventualatie and he has access to excellent property. He quickly earned my respect in spite of the years of experience I had. I have since returned again and again to hunt with him and have thoroughly enjoyed every day spent in the field with him. I would rate him as one of the best and most reliable people I have dealt with in the hunting industry. I hope to have the opportunity to hunt with him many times in the years to come."
Donald Stoner, FL
"Koby-just a short note to thank you for two great hunts in 2007. Our turkey hunt in April was splendid. A limit of birds, great food, great accommodations-all made for a wonderful trip. As well, we really enjoyed our deer hunt last month. I am proud of both bucks I took-excellent deer. And, again, the company, food and lodging were all first rate. Know that we will be back again for turkey and deer in 2008. Feel free to use me as a reference."
Bob Karel, FL

"I just wanted to thank you for the Whitetail Deer hunt my dad and I had November 9 thru November 13. I estimate that we saw 70 bucks that ranged from 4 and 6 points up to a very impressive 21 point 190 class buck. Of these deer less than ten were 4 or 6 points. We averaged seeing ten bucks every time we went out hunting. We made it home to Michigan for opening day of firearm deer season. It was very disappointing after hunting in Texas.
My dad turned 77 the day before our hunt. He has a hard time walking very far. His guide
James gave him first class treatment. He would drive the Bad Boy Buggy right up to the blind so my dad did not have to walk far. James put my dad on the biggest buck he ever harvested. James rattled some deer in for us one morning. In fifteen minutes he rattled in ten different bucks. One of the bucks that came in was a 170 class 14 point. It was incredible to have all these big bucks come in to the rattling of the antlers. It is something you have to experience in person. You just can't get that kind of rush watching it on TV.
My guide Kerry did not let me down either. He guided me to my biggest buck ever. I never dreamed I would have five big bucks in front at the same time and have to pick which one to shoot.
The hunting cabin was brand new. No details were left out, from the large screen TV to Air conditioning, washer and dryer, right down to each bedroom having an alarm clock.
The food was just as good as the hunting. Our cook Lynn had breakfast waiting for us when we came in from the morning hunt and supper waiting after the evening hunt. I know we could not have found a better meal any where.
I give the whole experience a 5 Star rating. It is something my dad and I will remember forever. We hope to hunt with you next year!"
Jon and George Dobrowolsky
"The pictures of my two huge elk (370+ B&C) have stirred quite a bit of interest. I need you to send me a couple dozen business cards. I meant to bring some with me but in the last minute rush I forgot to ask you. Nancy has interest in thinking about setting up a long weekend, like this one we had, next year for the entire family. That would probably be 8 or 9 of us. One or two of us would probably hunt. My Grandson could do something there and my Son and I might think about deer again. Keep it in mind. Thanks again for a great hunt!!"
Don, FL