Before the season started I told several of my clients that this year will be "The Year of the Deer" in Texas. We had a perfect spring and summer season to produce incredible whitetails. There have been some huge whitetails hit the ground throughout the state! Over the past month and half 5 Star Camps have had 100% success!!!! Our clients have harvested four deer over 200 with the largest scoring 228, six deer in the 180's, six deer in the 170's, eight deer in the 160's, five deer in the 150's, and sixteen deer between 120 and 149.
Sorry, for the delay in updates I've been gone for the past month....New updates coming soon....
Dec 7, 2007
This past hunt was short but very productive.

After landing in
San Angelo
in Dave's Citation II, we headed straight for the ranch to get the hunt started.

After looking at several trophy
exotics and whitetail Dave decided to start the hunt off with a 39 inch Oryx.

The next day was fast and furious with eight trophies hitting the ground.

Al harvested a big Mouflon, and his son harvested a tremendous Texas Dall sheep. Dave busted a 24 point 370+ inch Red Stag, Pere David and his son Dave Jr. whacked an impressive Chinese Water Deer. Greg busted his fist whitetail, and Aaron finished it up with an 8x7 360+ inch Elk and a nice whitetail. The last day of the hunt Dave smoked a Sika, and a 148 inch whitetail. Greg finished it up with a very nice last minute Blackbuck.

This was truly an exciting hunt and I think one of the most enjoyable parts of the hunt was being able to watch the kids hunt. Thanks again Dave and company and we'll see you next year.
Dec 2, 2007
This past weekend was awesome Atlantic Scaffolding really knows how to treat there clients to a great hunt. Not only do they know how to have a good time but they can shoot. TJ started the hunt off with a tall heavy horned main frame eleven point. His 158 5/8 inch buck had 14 inches of broke antler. The afternoon of the second day Rodney and Scott scored with two really nice
deer. Rodney harvested a 230 pound beast that scored 163 3/8, and Scott busted a 24 inch wide bruiser that scored 175 1/8. The next morning Mike harvested his very first whitetail that scored 167 7/8. And then their was one…… What can I say Dwayne stuck to his guns by not putting his bow down for a rifle….Lance and Dwayne hunted hard, but just couldn't get everything to come together, until the last morning of the hunt….that morning Dwayne had a few close encounters on some really nice deer. On their way back to the lodge for breakfast they spotted a buck that was chasing a doe, and they carefully closed the distance and Lance was able to grunt the buck within bow range. Dwayne made a great quartering away shot, and his 161 B&C main frame nine point only ran about 40 yards before crashing into a mesquite. I would like to say thanks again for a really good hunt, and we look forward in seeing yall next year.
Nov 19, 2007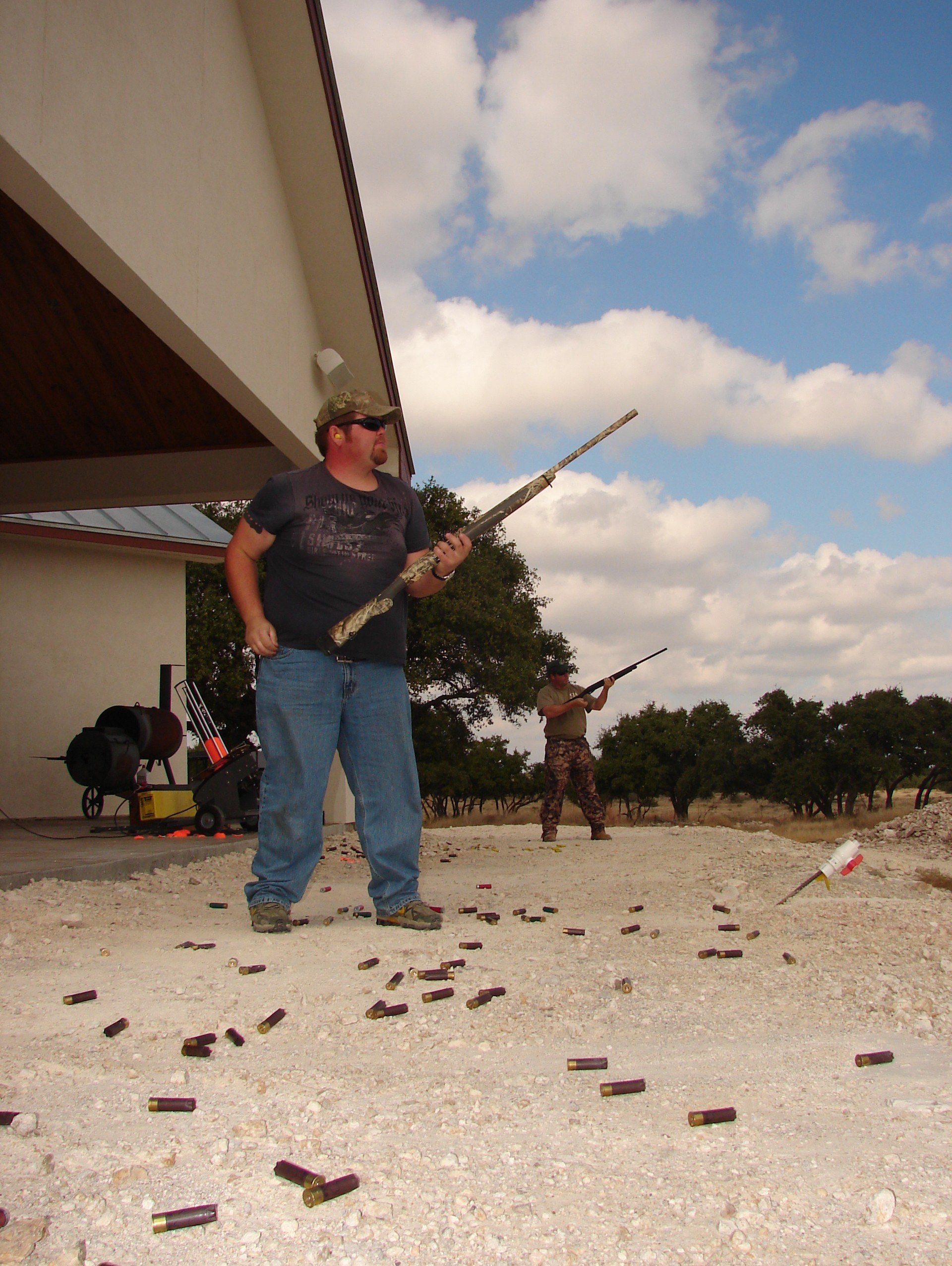 This past weekend was warm but we keep the ball rolling with a deer in the mid 160's and one in the upper 150's, we also managed to bust a deer in the high 140's! When the weathers hot in Texas the rut really comes to a stand still during the day, so instead of some mid day horn rattling we burned up the the shot guns with a friendly competition skeet shoot. It looks like the weather is going to change, so these big Texas whitetails should really get stirred up and try and twist each others neck off.....So stay on line with us because we'll be back in the thick Texas brush chasing 160+ class whitetails this next week! Don't forget to be looking for our DVD that will be out in the spring!
A special thanks to our 5 Star Team! You are what make 5 Star Outfitters one of the best in the business! We truly applaud you, and thank you for all your hard work.