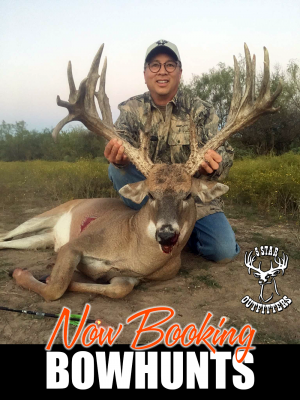 Now Booking Bowhunts for 2017 Season!
First hunt is September 30th!
Book now for an ALL-INCLUSIVE, 4 night, 3 day, Guided 1-on-1 bowhunt!
$3500 - up to 150 B&C
$6500 - up to 190 B&C
Bigger deer available, just ask!
Come experience the HUNT OF A LIFETIME!
Amazing animals, beautiful lodging and delicious chef-prepared meals.
Find out why 5 Star Hunters return year after year!
To book a hunt, fill out the form below and we will contact you ASAP!!